To data or not to data
Kin + Carta Data Labs
Data fluency rewrites the script for business performance
William Shakespeare is the most quoted writer in history. It's estimated that he added over 2,000 new words to the English language, all commonplace today. It can be stated, under no uncertain terms, that Shakespeare fundamentally altered literature and the English language at its most essential core.

At Kin + Carta, we believe what Shakespeare did for literature, data will do for business. Just like learning a new language, enterprise-wide data fluency will allow all teams to access, read, and use data to make better, faster, and fewer decisions. Today, you're faced with one, singular posit: To data, or not to data, that is the question.
Data-as-a-product thinking connects you to your audience
For any organization to become truly fluent in data, we believe it's essential to treat data like an asset or an offering; one to be managed, evolved, and directed based on real human needs and feedback. In other words: to unlock fluency, we must treat data-as-a-product.

At Kin + Carta, we've built human-centered digital products over the course of two decades, and now, we're combining this expertise with our data architecture, science, and engineering disciplines to deliver integrated data solutions that drive change for your business.
Our trusted clients
Every data challenge is unique and requires organization-specific understanding, business and cultural context and engineering innovation to structure outcome-focused initiatives in order to see a return on investment. Kin + Carta has a long history of delivering strategic outcomes for enterprise clients.
Our work


By combining digital advisory services with the development and launch of new digital products and experiences, Kin + Carta is uniquely suited to serve organizations in the midst of a data-centric transformation.
Our strategic data partners
Kin + Carta is an outstanding partner and provides expertise that is unique and extremely difficult to find in the market. The high level of quality has inspired my organization to think differently and move faster. They're always focused on how the data can deliver value to the business and I highly recommend them for any company.

Chip Streiff Senior Director of Digital Analytics, Adidas

Working with Kin + Carta is the perfect example of how a global organization like Corteva Agriscience can do things right with a strong product vision and a focus on collaboration between our internal teams and outside collaborators.

Gary Jepsen Technical Product Manager, Corteva Agriscience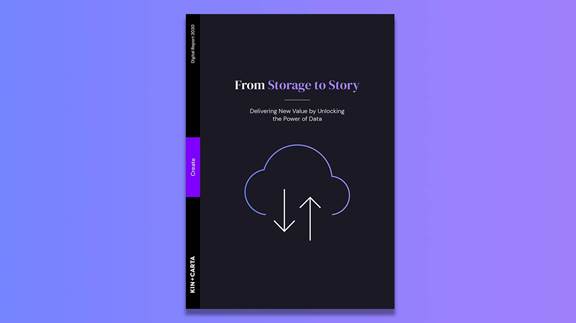 From Storage to Story
Data has become the most important resource for any organization. From intelligent and personalized customer experiences and real-time employee decision-making, to predictive and automated business operations, liberating your data with a strategic approach is the key to making speed to value a reality.
Download the Whitepaper