Accelerate business modernization
Changing the way your organization works with Cloud for the better should be about changing the way your organization works forever. By that, we mean that iterative, continuous integrations should take primacy and expensive, laborious rebuilds should become things of the past.

The notion of true modernization for businesses can feel impossible to some, whether it's down to time, cost or effort (or all three), but the reality is that it can be broken down into meaningful steps along an attainable pathway of transformation.

The potential of Cloud to create platforms that accelerate innovative and sustainable business outcomes is greater than ever. Unfortunately, as many businesses have hurtled headlong into such investment in recent years, the scale of Cloud waste is probably greater than ever, too.

That's why we're highlighting here how digital leaders like you can maximize those budgets by building Cloud-native thinking and engineering into everyday operations and modernize businesses as a result. It's what we call the journey to Cloud maturity.
Embracing Cloud maturity as an organization
From the initial migration to the continuous optimization, Cloud concerns change at every level, whether it's anticipated or not. It creates platforms for planned change by enabling the innovation that's expected of a modern organization. It creates the capacity for unplanned change by creating agile operating models that protect such organizations from catastrophes.

That's what Cloud maturity looks like, and, when you consider how quickly the world can move, you can see how crucial it can be for business survival in any industry.

To that end, Cloud and Platform initiatives should accelerate modernization, reduce risk and costs, and enable data-driven decision-making for everyone within an organization—all with a steadfast focus on sustainability. They should aim to eliminate aging infrastructure, lower costs for total application development, improve agility and enable scaling of operations and services.

By improving time-to-value across every part of an organization, whether it's fine-tuning a product or venturing into a new market, an optimized Cloud and Platform strategy can support sustainable and innovative business outcomes for the long term. This four-stage journey is how we make that happen as end-to-end partners for our clients at Kin + Carta: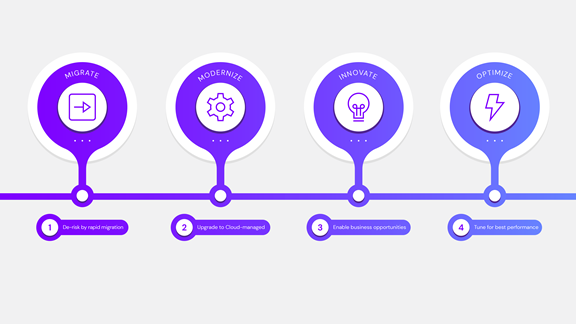 The four-stage journey to Cloud maturity
The transformation required to move from sluggish, legacy estate to everything Cloud-by-default can seem daunting, but, as we see it, there's a natural progression for every type of organization.

If you're currently attitudinally averse to Cloud adoption and without a Cloud strategy as a business, you'll need to learn to walk before you can run. If you're moving towards Cloud use with an emerging capability, motivated by achieving operational efficiencies in the first instance, you'll need to learn to run before you can fly as a fully-fledged digital native. Cloud maturity and, indeed, ROI can be realized in time, but it's a process with lots of moving parts to consider at each of the four stages.

1. Migrate: De-risk by rapid migration

Organizations that are experiencing rising infrastructure costs and requirements to improve reliability find themselves at the first stage of the Cloud maturity journey. They need to find ways to scale smoothly and gain more value from IT and are often driven to change by a compelling event, such as data centre exit, hardware refresh or licence and support costs.

At this stage, the goal is to move from IT-procured legacy data stacks and on-premise arrangements toward a Cloud strategy that will start improving time-to-value and reducing costs.

2. Modernize: Upgrade to Cloud-managed

Organizations at the stage of Cloud modernization seek operational excellence and rapid scaling of applications and services. They need to build a robust foundation that will support existing apps and work towards turning IT into a new source of revenue.

There is still a need to gain more value from Cloud at this stage, but the move to a modern data stack has begun and operational architectures are undergoing significant transformation.

3. Innovate: Enable further business opportunities

When we reach the stage of innovation, organizations pursue application excellence and the ability to predict business outcomes for new products and experiences. They are moving from creating data solutions to building innovative data products with speed and flexibility, but they need a foundation of data governance to guide them.

The desire here is to establish operational cadence and develop the essentials for achieving Cloud-native engineering for true modernization.

4. Optimize: Tuning for best performance

The final stage of the Cloud maturity journey concerns the continual improvement of an organization's technology so it can enjoy the benefits of being a digital native. It requires broader stakeholder engagement, greater people enablement and better communication planning to achieve a state of continuous integration for all new products and experiences.

Organizations at this point seek the optimization of not only their Cloud and Platform operations, but also their associated bills and footprints as they scale and grow.

There isn't so much an end-point to this journey as there is an optimum state of modernism. Leaders that place heavy emphasis on continuous improvement are often the ones who reap the rewards of a diligently taken route to Cloud maturity.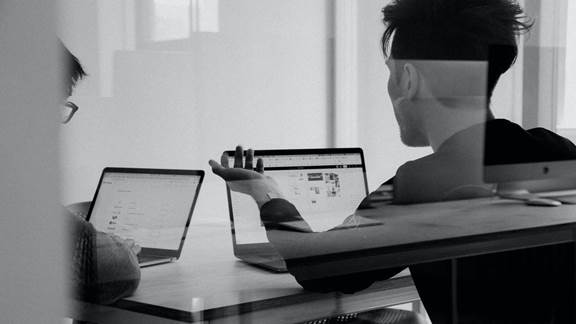 Pursuing sustainability in Cloud modernization
True innovation through modernization demands attention to detail from business leaders. It requires an unerring focus on improving the way things work at every level of an organization. It commands responsibility for one's actions, too, when we consider the impact of the foundational change that new Cloud and Platform strategies can have on people, planet and profit.

The path to Cloud maturity looks different for every kind of business, but the basic principles and four-stage waypoints typically remain the same. They all rely on sustainability being factored into every decision, from financial operations within our organizations to carbon impacts on the world around us, so leaders must understand the unique needs of their own transformation journeys to succeed.

Whether you want to reduce Cloud waste or you have a Sustainability Charter and want to report on ESG progress around Cloud, it's crucial that you're working with the right provider and modernizing in the most efficient ways. Chasing Cloud without a strategy simply isn't conducive to sustainable business.
Are you ready to transform your business outcomes?
As certified partners of all three major Cloud providers, Google, AWS and Microsoft, as well as DXP and composable vendors like Optimizely, Contentful and Contentstack, we're uniquely placed to help organizations through every stage of this maturity journey and beyond. We're also the first B Corp on the London Stock Exchange, so we're already part of sustainability agendas and ESG initiatives for many of our clients.

If you're ready to accelerate your roadmap to adopting Cloud-native practices and start realizing more efficient and impactful business outcomes, get in touch with our Cloud and Platform experts today—we'd love to work together.