We exist to make the world work better.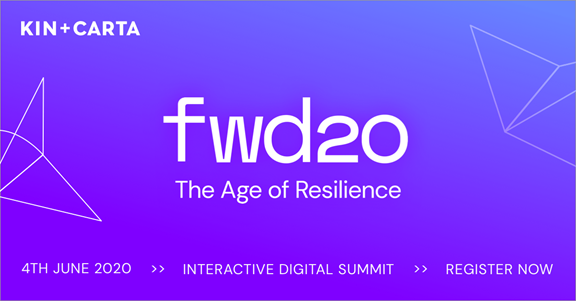 Interactive digital summit: June 4th
We're thrilled to announce FWD20 - a digital summit designed to deliver as much practical insight for senior executives as we can fit in a half-day schedule. With over 40 sessions, 5 interactive formats, 60+ visionary executive speakers, 10 in-depth categories and one unifying theme: The Age of Resilience. Reserve your spot today and join the conversation.
Book your place now
Kin + Carta is a global digital transformation business. We make the journey to becoming a digital business tangible, sustainable, and profitable.
We focus on three challenges our clients face: building digital twins to replace existing analog processes, designing and launching new digital products and services and unlocking future innovation through modernisation initiatives. Leveraging over 1,600 highly specialised technologists, strategists and creatives across four continents, we're organised to deliver the seamless client experience today's challenges require. 
Kin + Carta and Google Cloud are helping Corteva Agriscience solve for challenges associated with developing an intelligent crop yield management and prediction app.
Led by the award-winning 4.8 star-rated Bankline Mobile app, we helped NatWest revolutionise the way it serves 31% of the UK's business banking customers. The highly innovative app encompasses the UK's first PSD2-compliant payment approval solution and a world first in automated testing of FaceID on iOS.
Luxury comes down to the details, digital included. Looking to create a captivating, service-led web experience, Lexus partnered with Kin + Carta to launch a new website, designed to be as beautiful, performance-driven, and remarkable as the cars it sells.