FWD20 The Age of Resilience
Interactive Digital Summit
Rewind with the Best of FWD20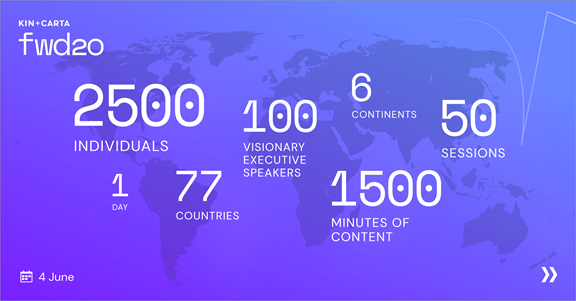 On-demand Content Now Live
We believe the changes we're living through have kick-started a new age of resilience, an era that will be defined by the ability to adapt, recover, and thrive in the face of extraordinary change. FWD20: The Age of Resilience was an immersive virtual summit designed to explore the ideas, technologies and people that will make that drive this era forward. The live sessions may be behind us, but we're only getting started. Scroll down to learn more about the event and access all FWD20 content.
Key Takeaways
Rethink
From Agile principles and investment strategies to new economies, old data myths and the need to redefine the role of businesses in society...FWD20 examined the priorities, perspectives, and mindsets necessary to lead through a crisis.
Recreate
Rapid response chatbots, IoT manufacturing, healthcare personalization and augmented intelligence were just some of the lenses we used to examine the products, experiences and foundational infrastructure that your business depends on.
Reconnect
Including mental health prioritization, connected customer experience, blockchain-enabled culture building tools and the vital importance of inclusive design...FWD20 took close aim at how to close the gaps being magnified during times of uncertainty.
Diverse Perspectives From Across Industries